An After School Environmental Adventure for Middle and High School Students
Get Close! Dig In! Get Wet! Get Real! Go Wild!
You CAN be a HERO!
Apply now!
Free!
A partnership among the Center, CWRU faculty, staff scientists at the Cleveland Metroparks, and local middle and high school students, the Environmental Heroes program is a year-round after-school program designed to fully engage students in research experiences that address authentic environmental and ecological issues in the Metroparks. The program meets for two weeks in the summer and then every Wednesday afternoon from 4-6 pm at the West Creek Reservation of the Cleveland Metroparks.
Built on the research laboratory model, the Environmental Heroes program consists of teams of students investigating the factors that impact the abundance and distribution of reptiles and amphibians in the Metroparks' West Creek Reservation. Student researchers earn credible data collection Level 1 certification as well as opportunities for additional certifications and presentations at local and state-wide environmental conferences.
Participation is free but includes an application and face to face interview. Transportation is not provided and weekly attendance is expected; parents or guardians are responsible for transporting students to and from the research site each week.  Contact Kathy Kwiatkowski for an application or more information (kmk21@case.edu; (216) 368-5075).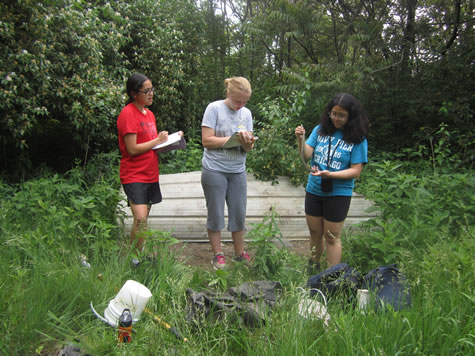 Engage in Real Research, Adventure, Exploration!
Where:     West Creek Reservation
2277 West Ridgewood Drive
Parma, Ohio 44134
Move Your Research Findings to Citizen Action!
Make a Difference!
What you do matters! Learn how in this free after school program for middle and high school students (minimum age 12), a joint program of the Cleveland Metroparks-West Creek and Case Western Reserve University's Leonard Gelfand STEM Center. Self – motivated participants will engage in real science with naturalists and scientists, collecting and analyzing environmental data, and in developing plans to solve environmental problems. Only serious Environmental Heroes, willing to make a commitment for 2 years need apply. Youth will be selected in a competitive process to participate and will spend two weeks in the summer actively developing field observational and investigative skills.
Orientation takes place over two weeks in late July and early August each summer, 9:30 a.m. – 2:30 p.m. weekdays. After school sessions are on Wednesdays 4:30 p.m. – 6:30 p.m. through June. All sessions are at West Creek Reservation-Watershed Stewardship Center.
Contact Kathy Kwiatkowski for more information (kmk21@case.edu; (216)-368-5075).